V2V is new technology that promises to solve limitations of current adaptive driving capabilites and offer a wider perspective on urban traffic challenges. It uses a small radio transmitters & receivers on each vehicle to broadcast information about its location, speed, and direction to other vehicles within several hundred yards. Unlike current radar, lidar, camera, and other sensors, it can know what oncoming vehicles are doing—or even those around corners and out of sight. The idea is to use this information to help electronic safety systems work more smoothly and safely.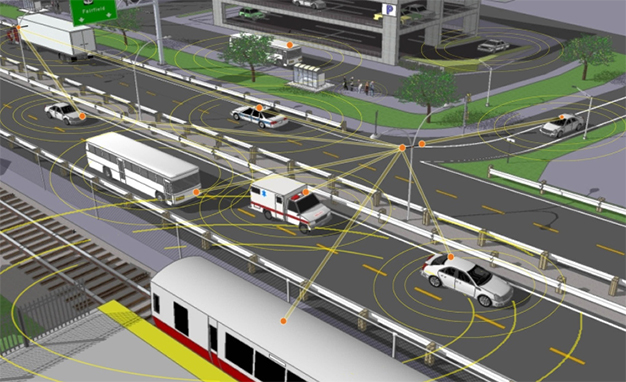 U.S. Transportation Secretary Anthony Foxx was at Delphi Labs @ Silicon Valley earlier this year to announce a series of steps to speed life-saving technology innovations to America's highways.  The Department's National Highway Traffic Safety Administration will expedite its public time table for its proposed requirement of vehicle-to-vehicle (V2V) communication devices in new vehicles, and is working to accelerate testing necessary to ensure that V2V and vehicle-to-infrastructure transmissions are free from radio interference.
"The Department wants to speed the nation toward an era when vehicle safety isn't just about surviving crashes; it's about avoiding them. . .Connected, automated vehicles that can sense the environment around them and communicate with other vehicles and with infrastructure have the potential to revolutionize road safety and save thousands of lives." ~ U.S. Transportation Secretary Anthony Foxx
Accelerating the schedule of NHTSA's proposal to require V2V equipment on new vehicles.
Developing an expedited test plan on interference with V2V signals.
Ensuring that the Department's regulatory framework accelerates safety innovations.
The necessary hardware entails a small box containing a radio transmitter, receiver and as a microcomputer…all costing about $300.  Basically, they are tricked out versions of existing Wi-Fi systems currently used with desktop computers…but optimized for moving vehicles and having about a half mile range.