Been looking for that hot investment opportunity? Classic muscle cars might be worth looking at.  A unique combination of valuation factors can come into play…paying out leveraged dividends like you never thought possible…into the Thousands (1000's) of percent increase over their original purchase price.  This 1971 Plymouth Barracuda, for example, has enjoyed a 58,000% increase in value.  But unrestored "mint condition" is a top quality that's hard to come by.
Another classic car example is the 1967 Shelby Cobra…increasing 17,000% to $1.3 million. Other models are also yanking in big bucks at auctions around the US (shown below) includes the Cadillac Eldorado, Chevy Corvette, Pontiac Bonneville, Ford Thunderbird, and Ford Mustang GT.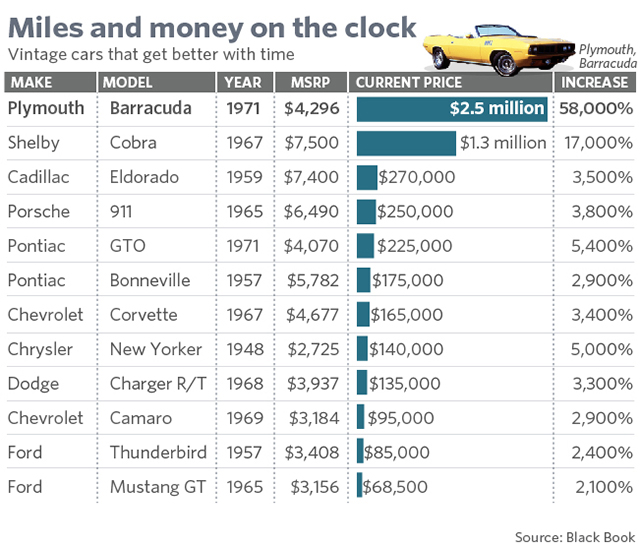 The percentage increase in value is influenced by a unique algorithm with intangibles…the three Ps: popularity, pop culture and production volume.
"Many people think today's uber-expensive vehicles always came with a hefty price tag, but these vehicles show that's clearly not the case," Eric Lawrence ~ Black Book
Every year since 2013 has brought record prices for classic cars—but the market is stabilizing. The prices paid for cars increased 25% in 2014 and rose by nearly 18% in both 2015 and 2016, according to the HAGI Top Index, a measure of prices paid for cars that cost more than £100,000 ($122,670). Most of the cars were sold in auctions around the world.